[ad_1]

A billboard recently appeared nearby the Boston Celtics facility encouraging former head coach Brad Stevens, now president of basketball operations, to appoint Becky Hammon or Kara Lawson as his successor.
"Hey Brad, it's time to shake it up," it read. "Hire Kara or Becky!". The league is ready.
The NBA is not being forced to consider female candidates for head coaching roles, it is becoming unignorably spoilt for choice.
Resumes are brimming with cultured player rapports, refined basketball knowledge and constructive testimonials stockpiled over years of sideline experience at college and professional level. Two decades on since Lisa Boyer became the league's first female coach as volunteer assistant with the Cleveland Cavaliers, women in basketball are warranting a place on top job shortlists.
A search for one symbol of progress has blossomed into a collective pursuit; this isn't one female coach competing with male counterparts, but female coaches, plural, vying for the same male-dominated jobs.
San Antonio Spurs assistant Hammon, New Orleans Pelicans assistant Teresa Weatherspoon, Duke Blue Devils women's head coach Lawson and South Carolina and Team USA women's head coach Dawn Staley have all been linked to at least one of the seven current vacancies. Five more women are meanwhile honing their craft as NBA assistants amid their own ascent in what is an accelerating and broadening cycle.
Their contention no fad, their credentials undisputed.
"I mean, this ball is never moving fast enough, in my opinion," said Hammon in an interview on NBC's 'Inspiring America: The 2021 Inspiration List' earlier this year. "People don't like doing something new and different. It's uncomfortable. It takes a massive amount of risk. Somebody's going to have to take a chance. In some ways, I feel like it could be in a year. In other ways, it could be 10 years. I'm not really sure. What I'm sure of is, I'll be ready."
The NBA will get the credit when it decides to pull the trigger, be it now or further down the line, but it is the devotion of the women in question in amassing the qualifications and proficiency in the shadows that has gifted the league the chance to make a transformative change to the sporting landscape.
It won't be for PR, it won't be for show, the emergence of female options isn't a fluke or a flurry but the product of obstacle-hurdling ladder climbing. Eventually there will be more questions raised as to why experienced female candidates are being snubbed than as to why they are being hired.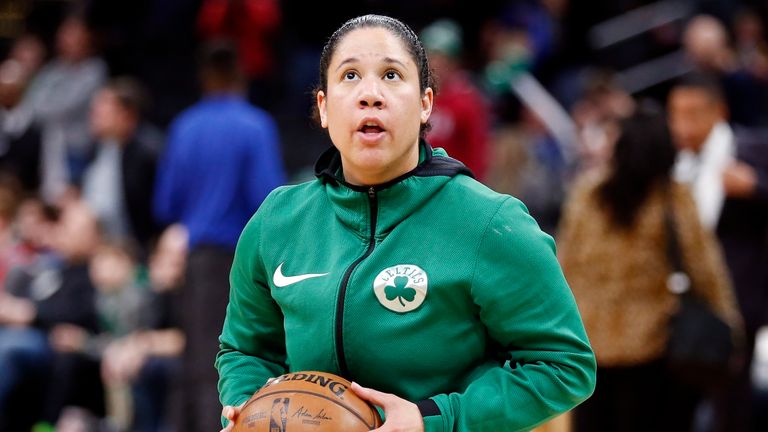 Coverage has pointed towards prime selling points of the NBA's openings, be it the opportunity to work with Jayson Tatum and Jaylen Brown in Boston, or Russell Westbrook and Bradley Beal in Washington, or overseeing Zion Williamson's development in New Orleans or joining Luka Doncic's pursuit of a championship in Dallas.
The unsung flip side being the prospect of drawing on Hammon's experience as mentee to the great Gregg Popovich since 2014, Lawson's familiarity with the Celtics set-up from her spell there in 2019, Staley's authority in the college game or Weatherspoon's understanding of the Pelicans organisation.
Tampa Bay Buccaneers head coach Bruce Arians is a chief advocate for enhanced gender diversity, winning the Super Bowl earlier this year with a staff that includes defensive line coach Lori Locust and assistant strength and conditioning coach Maral Javadifar. He spoke to the value of injecting largely untapped perspectives in the men's game.
"I've really enjoyed having the perspective of women in our building, on our staff coaching and scouting," he said. "This year, particularly, sometimes, I think women have the intuition and the ability to read people. And it's been an asset for us."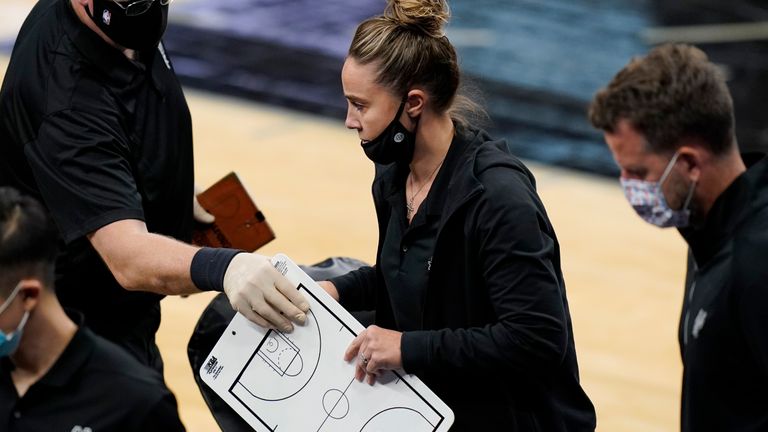 Hammon commanded headlines in December 2020 when she became the first female acting head coach in NBA history by replacing Popovich following his ejection against the Los Angeles Lakers. As the world rejoiced, the Spurs barely bat an eyelid such had her input become entrenched in the approach as the players knew it.
"We didn't hire Becky to make history," said Popovich. "She earned it. She is qualified. She's wonderful at what she does. I wanted her on my staff because of the work that she does. And she happens to be a woman, which basically should be irrelevant, but it's not in our world."
Guard DeMar DeRozan referred to Hammon as 'one of us', while team-mate Dejounte Murray cited the relationship she had established with the players.
"She's been here since I got here," said Murray. "I've been watching her talk to every single player, whether he was a veteran dude or a young dude. Just using her voice and her knowledge of the game. I love Becky to death."
Hammon, a six-time WNBA All-Star in her 16 seasons as a player, was also the first woman to serve as head coach in the NBA Summer League as she led San Antonio to a Las Vegas title in 2015 and was the first woman to be named to an NBA All-Star coaching staff. The Indiana Pacers interviewed her last season before hiring the one-and-done Nate Bjorkgren, and in 2017 she was interviewed by the Milwaukee Bucks for their general manager job.
Among her interested suitors are the Orlando Magic and Portland Trail Blazers, both of whom potentially face gruelling rebuilds. But while staying put as a ready-made successor to 'Pop' presents itself as a more logical and seemingly-kinder avenue, her candidacy for two daunting jobs is testament to the reputation and trust she has garnered.
Perhaps the ultimate compliment would be introducing her to a less-than-perfect situation.
Spurs assistant coach Becky Hammon has emerged as a candidate for the head coaching vacancies in Portland, Boston and Orlando, but @TheHoopGenius believes a better fit awaits in San Antonio 🏀

— Sky Sports NBA (@SkySportsNBA) June 15, 2021
Lawson spent 13 seasons as a player in the WNBA, and two years after her retirement in 2015 became lead analyst on the Wizards broadcast network. In 2019 she was appointed as assistant by the Celtics, working closely with Marcus Smart before being snapped up as head coach at Duke, where she saw her maiden season end after just four games due to the impact of the coronavirus pandemic.
"She became more than just my shooting coach, she became a longtime friend and somebody I know I can talk to if I ever need advice," said Smart.
There is a sense she may have unfinished business at Duke, but her existing connections to members of the Celtics roster make her something of an obvious fit.
Elsewhere Stan Van Gundy's departure after just one season in New Orleans has thrust Weatherspoon into the rumour mill, the 54-year-old having been made the team's two-way player development coach in 2019 before earning a promotion to full-time assistant.
The Women's Basketball Hall of Famer, who is due to coach the Pelicans in August's Summer League, was head coach at her alma mater Louisiana Tech between 2009 and 2014, taking her team to the NCAA tournament on two occasions.
Her infectious self-worth was demonstrated in a press conference earlier this season when Weatherspoon revealed the story of when she made a midnight trip to the house of the eighth grade teacher that had told her she would never be great in basketball to proudly display her 1998 Olympic gold medal.
Loved this Teresa Weatherspoon clip when it was released and it's a great time repost with her rumored to be potential Pelicans head coach: pic.twitter.com/0u2WxEMODU

— Tas Melas (@TasMelas) June 16, 2021
"Understanding who you are, understanding your value, understanding your worth is so important," she said. "You cannot allow one person to tell you who you are and what you cannot become. If you do you allow them to create your destiny, you can't do that. Know who you are and get the last laugh."
There is a feeling a mere hour in her company would be packed with life-long lessons, on and off the court.
"Passion and enthusiasm that she's got for the game," said Pelicans rookie Kira Lewis Jr. "The way she coaches. Always locked in. She wants the best for you. She wants you to be the best version of you."
Staley is arguably among the most qualified names floating around having become USC's all-time winningest coach since arriving ahead of the 2008-98 season, reaching the postseason 11 times, winning five SEC regular season championships and six of the last seven SEC Tournament championships, making the NCAA Tournament on 10 occasions and clinching the 2017 National Championship.
The five-time WNBA All-Star and three-time Olympic gold medallist, who was inducted into the Women's Basketball Hall of Fame in 2012, will lead the USA Basketball Women's National Team out at Tokyo 2020 after being appointed as head coach back in 2017.
Despite her experience, Staley recently admitted "no ounce of me really wants to coach outside of college" following the Gamecocks' Final Four campaign, explaining she felt "there's too much work to be done in our game".
Possibly linked to that sentiment is the fact that just five of the 12 teams in the WNBA are coached by women.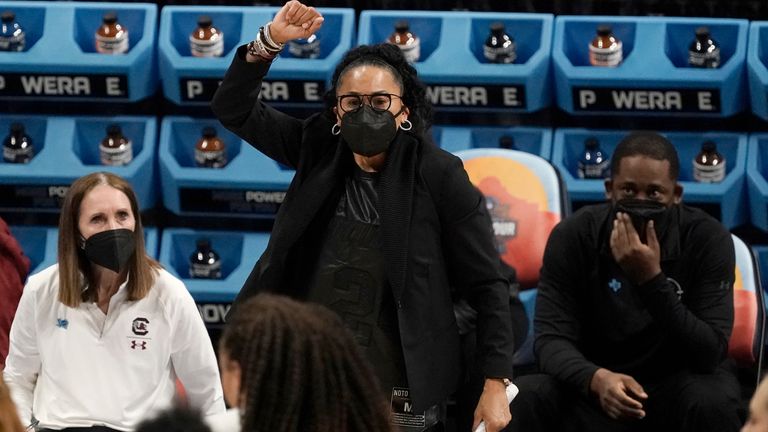 Nonetheless, she carries zero doubts over her ability to coach in the NBA. Staley once sued Mizzou athletic director Jim Sterk for defamation on the back of his suggestion she created a racist atmosphere, she has faced criticism for being arrogant and been subject to incessant chatter about her strict approach. She has become one of the most recognised Black women in basketball, and shoulders the responsibility when it comes to standing for equality. She is no stranger to challenges.
"I come with a lot of credentials," she told The New York Times recently. "I surely have the confidence. I surely can stand in front of men and lead them. First-team All-Stars. MVPs. I'm OK with that."
Staley went on to remind and maybe warn of the need for female coaches, once given their shot as head coaches in the NBA, to be treated as any male appointment would be.
As much as evident for three-time Grand Slam tennis champion Andy Murray regarding the disparities as he fielded questions surrounding the role of former coach Amelie Mauresmo that he admitted he had never faced when working with male coaches in the past.
"A lot of people would be out there, just waiting for you to make a mistake, waiting for you to be wrong," Staley added. "There's a whole dynamic that men, white or Black, just don't have to think about. It's a female thing. The expectation will be so much greater than the male coach. So much greater."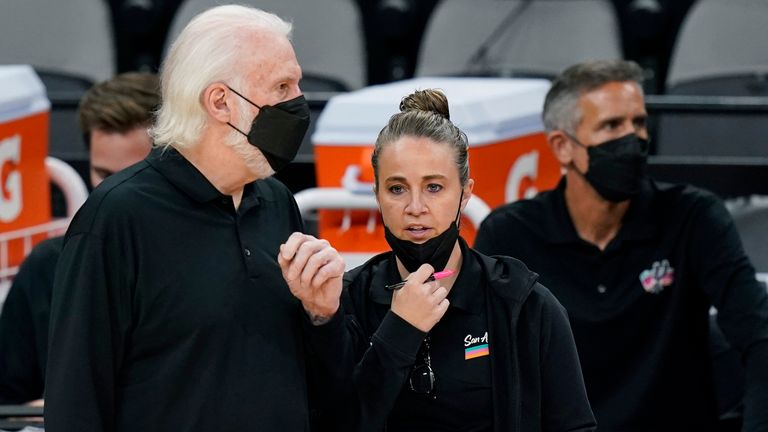 The NBA finds itself in a moment to seize momentum and be an exemplary catalyst for further change.
Chelsea Women manager Emma Hayes has excelled with her tactical analysis as part of the Euro 2020 commentary team and, if she hasn't already, will earn her way into contention for a managerial job with a men's team, while the Chicago Sky's Candace Parker has been elegant in her presentation of expert insight as an NBA broadcaster.
WNBA players united to publicly oppose former Atlanta Dream co-owner and Georgia senator Kelly Loeffler in the wake of her stance against the Black Lives Matter movement, and Kim Ng of the Miami Marlins has helped pave the way as the first woman to have been named a full-time general manager of a team in a major US men's league.
With women in sport around the world thriving at an escalating rate, the element of risk Hammon alludes to is becoming increasingly obscure.
Maybe the NBA cycle goes around again, like it has with diversity hires in the NFL in recent years. But if it doesn't happen now, it will eventually. There can now be no question about that.


[ad_2]

Source link