[ad_1]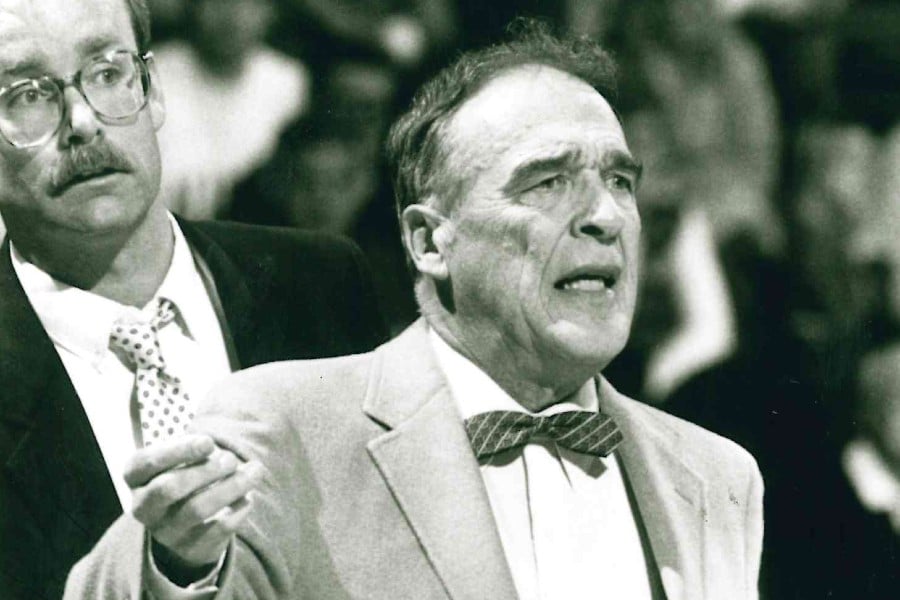 Early in the 1995-96 college basketball season, tiny Mount St. Mary's University  upset Georgia Tech, a member of the mighty Atlantic Coast Conference.
As was his post-game custom on the road, Coach Jim Phelan called his home in Emmitsburg to check in with his wife, Dottie, who was drowned out by a raucous celebration in the background, courtesy of some of their five adult children. His own spirit sounded muted, however, and Dottie asked him what was wrong.
"I think I just cost a coach a job," Phelan answered. 
Bobby Cremins was just fine in Atlanta, as the Yellow Jackets rebounded to reach the Sweet 16 in the NCAA tournament that season, but the exchange typified Phelan's concern for his fellow man, regard that was reciprocated in Emmitsburg and across college basketball June 16, after he died in his sleep at the home he shared with his wife of 67 years. Phelan was 92.
Few laymen matched his contributions to the Mount, which gave Phelan a one-year contract to coach in 1954. It turned into 49 uninterrupted seasons on the same campus, the third longest in the history of the sport. His 830 career victories made him the game's winningest active coach when he retired in 2003, at age 73. It still ranks him 13th all time. 
His 1962 team won a national championship in the College Division, one of five Final Fours it reached in what is now Division II. Phelan was inducted into a dozen Halls of Fame, but his influence on the Mount went beyond basketball and his signature bowtie. 
"For 49 seasons, Coach Phelan formed student-athletes who embodied the Mount's mission statement by having a passion for learning, being ethical leaders and serving God and others," Timothy Trainor, the Mount St. Mary's University president, said in a statement. "Everyone who met Jim loved him, especially his student-athletes and his family."
Pioneer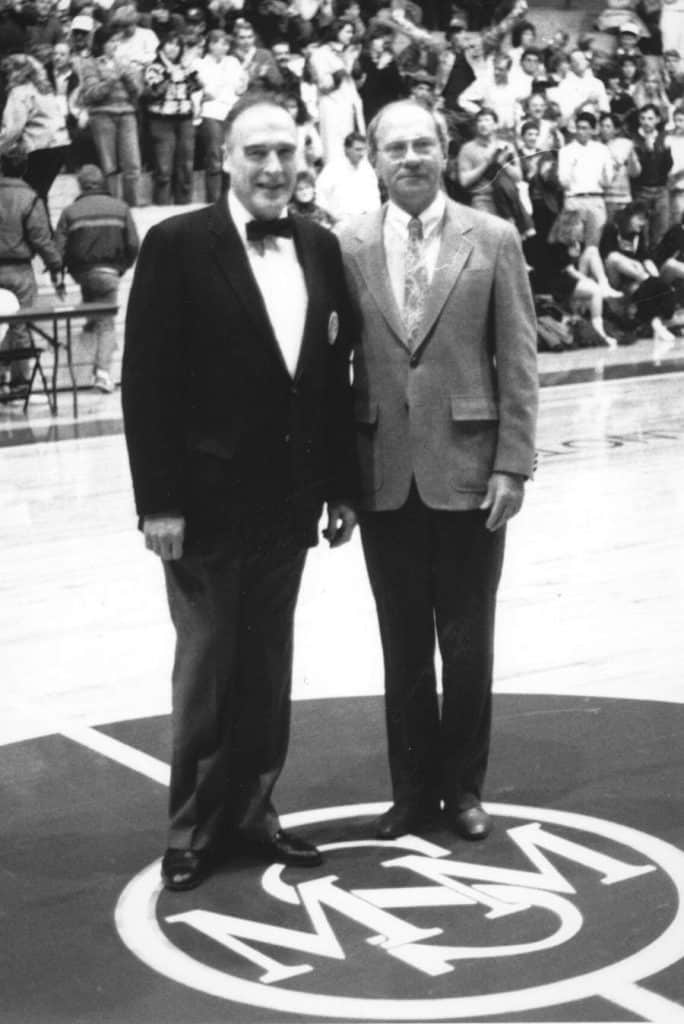 As athletic director from 1967 to 1989, Phelan added programs for women's teams after the college went co-ed; began its move from Division II to Division I; and oversaw the construction of the Knott Arena complex, across Route 15 from the main campus in northern Frederick County. 
As a coach, Phelan recruited the first Black student who resided on campus, in 1965. Fred Carter went on to play for the Baltimore Bullets in the NBA. Jamion Christian and Cliff Warren not only played for Phelan, but returned to Emmitsburg to coach. When he retired, Phelan was succeeded by Milan Brown, an assistant coach and another man of color. 
All three are among countless coaches and educators who cite the light-handed support their former coach offered, which extended beyond their salad days.
This past winter, Mount St. Mary's returned to the NCAA tournament under coach Dan Engelstad. Upon returning to Emmitsburg, he took the Northeast Conference trophy to the Phelan household.
"How fortunate I am to coach in a place Coach Phelan built and grateful that he built it on family," Engelstad shared on Twitter. "I get to share his desk and coach in the gym that he changed lives in. … His friendship and mentorship were a true gift in my life. He lifted me up during some lean years."
Big city
The only child of a single mother, Phelan hailed from Philadelphia, the nation's best city for college basketball. He grew up in St. Monica Parish at 17th and Ritner, a year behind Paul Arizin, who went on to a fine NBA career. Phelan had the proverbial cup of coffee in pro basketball, after serving a stint in the U.S. Marine Corps.
"St. Monica had to be the only parish team to have two kids who would play pro basketball," Phelan told the Review in 2008. "Basketball was a rough and tumble game at the parish level, and I learned how to play a little bit scared. That's also where I learned about loyalty."
Phelan played for La Salle College High School and then La Salle University, but not after a recruiting visit to a Catholic rival illustrated his integrity. When he arrived at the Mount, the staff at St. Joseph School, the old women's college in Emmitsburg, included Father Joe O'Donnell, who had been at Niagara when the teenage Phelan visited Western New York to check it out.
"When I show up in Emmitsburg," Phelan told the Review in 2008, "Father O'Donnell said, 'You're the only (Niagara) recruit who ever turned us down who sent back the $50 for travel we gave out.' My mother, Lily, made me do that."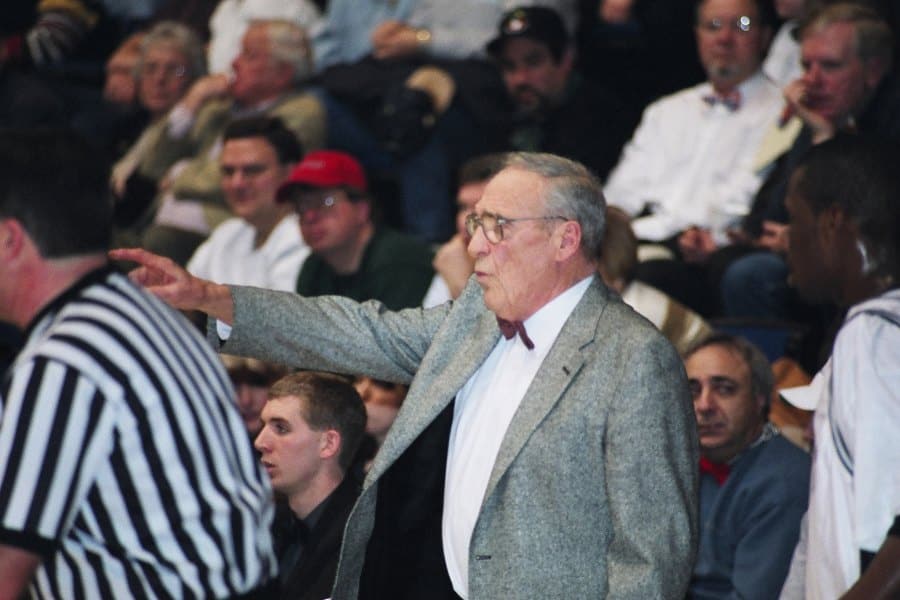 Phelan's early teams dominated the old Mason-Dixon Conference, where its rivalry with what was then Loyola College constituted what some described as a "Holy War." He had a 56-28 record against the Greyhounds, believed to be his most victories against an opponent. 
His top early recruits included the late Jerry Savage, who set records for free throw percentage and went on to build the Baltimore Catholic League's first dynasty, at Loyola Blakefield.
Savage was a senior in 1961, on a team that went unbeaten in the conference and reached the Final Four. A year later, the Mountaineers won the NCAA championship. They were a Division II power into the 1980s, reaching the NCAA championship game in 1981 and the Final Four in 1985. That era's stars included the Edwards brothers, Darryle and Paul, out of Calvert Hall. 
Following all its old rivals up to Division I, Phelan guided the Mountaineers to NCAA tournaments at that level in 1995 and '99. He chastised his shooters for passing up open looks, and abhorred superlatives, as in when he was asked to rank his "best" players. 
Phelan was inducted into the National College Basketball Hall of Fame in 2008. Campaigns to have him be inducted into the Naismith Basketball Hall of Fame were for naught.
Small town
The Mount St. Mary's athletic brand revolved around Phelan and the late Jim Deegan, who led a track and field program which produced numerous Olympians, including a gold medalist. Their support of women's athletics began in the home, as Phelan's included Lynne Phelan Robinson, a 1979 graduate of the Mount who has been its athletic director since 2007.
"Dad and Deegan wanted to get their daughters into sports when that wasn't always easy," said Robinson, who, like her father's players, benefited from his counsel. "Dad always taught me, 'What more can you ask of a coach than fairness?' That's a core foundation.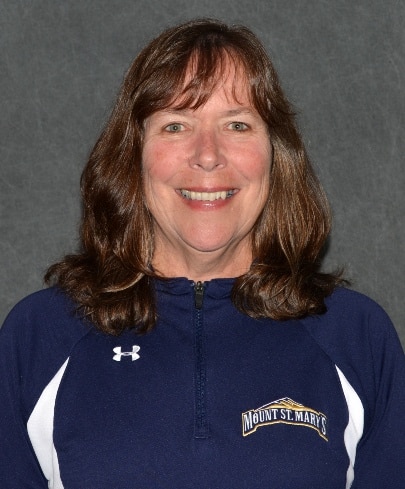 "He also wanted all of us to figure out the work-life balance. He felt that you have to find that."
Phelan worshiped at St. Joseph Parish in Emmitsburg.
"Jim and his wife, Dottie, are people of very strong faith, who passed that on to their children," Vincentian Father Vincent J. O'Malley, then the pastor of St. Joseph, told the Review in 2008. "Jim provides a wonderful role model for everyone in our parish. He took the talents God gave him and developed them to their fullest."
Phelan also coached Mount St. Mary's baseball for 10 years. He enjoyed thoroughbred racing, and taught his children how to read The Racing Form. His daughter, Lynne, describes him as being very well-read, and an astute student of politics.
According to the Mount, Phelan was the nation's youngest coach when he started. When he retired, he was the oldest. His ability to relate to college students, even when he was old enough to be their grandfather, was telling. 
"We used to drive down to Frederick to tape a coach's show on local access cable, and bring along a player," said Dave Reeder, who served as sports information director from 1990 to 1995, then became a financial aid officer. "I was always fascinated by the conversations he had with players.
"Whether it was Anthony Carr from D.C., Kevin Booth from the Philadelphia suburbs or Matt Meakin from England, he would have conversations that weren't easy to have, and make them feel good about themselves. As a young father, he enabled me to keep things in the proper perspective. No one had a more profound impact on my life."
Before COVID-19, Reeder had resumed a weekly lunch with Phelan at Rocky's, a pizza shop in Thurmont, and then at the Phelan home after his mobility became limited. He may have lost a step, but never his sense of humor.
"People would approach him all the time at Rocky's," Reeder said. "One day he was wearing a Marine Corps hat, and a woman thanked him for his service. They shook hands and chatted. After she left, he said, 'If she only knew I served in the Marines as a point guard.'
"A person's status didn't matter to him. He treated everyone with the same respect."
Phelan's many honors include the Marine Corps Sports Hall of Fame. CollegeInsider.com's National Coach of the Year Award is named for Phelan, as is the Northeast Conference's Coach of the Year honor.
A memorial service will be held June 24, 1 p.m., at Knott Arena, on Jim Phelan Court. 
Email Paul McMullen at pmcmullen@CatholicReview.org.
Copyright © 2021 Catholic Review Media

 Print
[ad_2]

Source link