[ad_1]

There's a lot of news each day. Illini Inquirer will try to make it easier to digest each weekday morning with the Daily Digest. Today, get up to speed on Josh Whitman's media roundtable, a big visitor for Illinois basketball, the Illini's athlete of the year nominees and two guard additions to House of 'Paign.
*****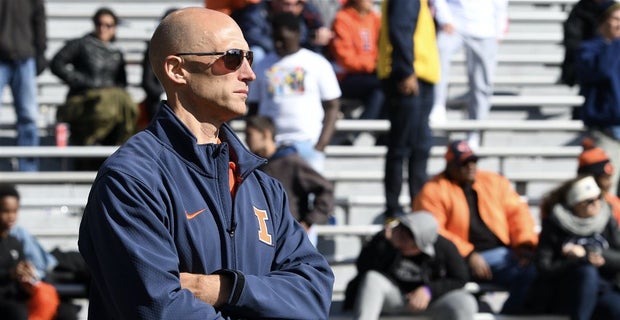 Josh Whitman met with the media for more than two hours in person on Wednesday with about 20 maskless media members who had all been vaccinated — a sign that the United States, college athletics and Illinois are coming through the pandemic. But the overarching theme from the media roundtable, which included an informative and very thorough 58-minute opening soliloquy from Whitman, was that Illinois and college athletics could look very different than before the pandemic for several reasons.
The pandemic caused a net financial loss of $12 million to $18 million, Whitman estimated on Wednesday, due to losses of gate, media, licensing and advertising dollars. Whitman said those numbers were lower than he expected when the pandemic began (he estimated upward of $40 million in losses then), partially due to playing football and basketball games that helped raise needed revenue. The university employed many cost-cutting measures, including staff taking salary cuts, reducing staff, buying out employees and leaving vacancies unfilled, and those cuts likely will continue as the athletics department pays back the university on loans that covered the losses.

The Illini's vaccination rates are higher than the country's rate. Whitman said 68% of student-athletes are fully vaccinated (75% partially vaccinated) and 90% of staff are vaccinated. Whitman said he is "expecting" student-athletes to get vaccinated but "not requiring" vaccination. Unvaccinated staff and student-athletes must continue to go through rigorous testing as well as masking and social distancing.

The hockey project is more in doubt. Whitman acknowledged that the athletics department just before the pandemic started was preparing to green-light the addition of a men's hockey program, which would've included a very expensive downtown Champaign hockey arena that could host four other varsity sports: volleyball, wrestling, and men's and women's gymnastics. But the project now is in more doubt after the athletics department and its local partners, including the city of Champaign and developers, focused on issues related to the pandemic. Whitman said discussions on the project are re-starting and that he feels obligated to look back into the feasibility of the project. But he offered no timeline or guarantee that the project would come to fruition.

The NCAA looks different — potentially very different. The pandemic didn't cause these changes, but just as the country comes out of the worst of the pandemic, the NCAA model is starting to look very different. The one-time, penalty-free transfer rule is in place. There is no national solution on name, image and likeness, but several states will allow athletes to profit off NIL on July 1, including Illinois. Then the Supreme Court in the coming weeks will rule on NCAA vs. Alston, an antitrust case that could open the door for a pay-to-play system for college athletics. Whitman said this will be the "most consequential year in the modern history of college sports."

On the Alston case, Whitman said: "I think there's a lot of focus on other issues. Depending on what the Supreme Court does, that could be the biggest of all of them and probably is the one talked about the least. …Depending on what that outcome is, how broadly or narrowly that opinion is written, it could have far-reaching implications for college athletics. So that's something we are watching very carefully."

On name, image and likeness: "Our preference here at the University of Illinois and I think the preference of most of my colleagues, not just in the Big Ten but across most of the country, has been and continues to be what I would term a national solution when it comes to name, image and likeness. …We would certainly like something to be done at the national level that provides the best we can an even playing field across the country. … It's an entirely new frontier. It's one of the biggest changes to come to college athletics in modern memory. How we will navigate that will require some time."
Whitman also addressed the basketball program, Bret Bielema, college football playoff and more. Read our quick hits.
*****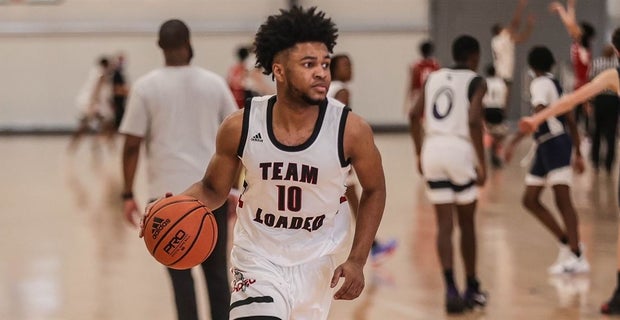 Illinois basketball will host an important visitor on Thursday for an unofficial visit: four-star guard Jayden Epps. According to the 247Sports Composite Rankings, Epps is ranked the No. 99 overall prospect in the Class of 2022 — though 247Sports ranks him No. 60 in the class.
A former Providence commit, Epps last week took an official visit to NC State and plans official visits later this month to UConn and Kansas.

Epps told 247Sports' Eric Bossi: "Chester Frazier was recruiting me at Virginia Tech and then he went to Illinois and started recruiting me there. I built a relationship with him and now I'm starting to build a relationship with (Brad Underwood) and I'm just happy to get on their campus." Read the full story.
Scouting report: "A physically well built combo guard at 6-2. Has a quick burst with strength giving him explosiveness in tight spaces. A polished three-level scorer with an old school efficient pull up game in the midrange. Long range shot must be respected. Strong driver especially going right. Loves to finish at rim with a one hand scoop lay up. Capable distributer as well. Strong and composed with the basketball. Rebounds his position well. Has quality lateral quickness and the ability to defend the one through the three." — Jerry Meyer, 247Sports director of basketball scouting
*****
Illinois announced its nominees for the 2021 Dike Eddleman Athlete of the Year award, annually given to the top male and female athletes at the University of Illinois.
The male candidates:
Jackson Raper, baseball: Junior-college transfer earned All-Big Ten First Team honors after leading Illinois in home runs (13), RBIs (44), doubles (11), total bases (102), slugging percentage (.634), OPS (1.034), walks (29) and runs scored (39)

Kendrick Green football: All-Big Ten First Team offensive lineman was selected in the third round of the 2021 NFL Draft by the Pittsburgh Steelers.

Aleks Kovacevic, tennis: Super senior advanced to his second consecutive NCAA Singles quarterfinal and helped Illinois win the Big Ten Tournament championship.

Michael Feagles, golf: Super senior finished accomplished career by leading Illinois to sixth straight Big Ten title and an NCAA match play appearance. Individually, he finished fourth at the 2021 NCAA Championships and had the lowest stroke average in program history (70.55).

Jon Davis, cross country: The three-time All-American was a First Team All-Big Ten selection after winning the 1500m conference championship.

Manning Plater, track and field: The Michigan graduate transfer won the Big Ten championship in the weight throw and placed third in the NCAA in the event, earning All-American honors. He was a second-team All-American in the hammer throw, finishing 10th at the NCAA Championships.

Lucas Byrd, wrestling: Redshirt freshman earned All-America honors after placing fifth in the NCAA Championships at 133 pounds.

Ian Skirkey, gymnastics: Junior won the 2021 NCAA pommel horse national championship.

Ayo Dosunmu, men's basketball: Just the second Illini consensus All-American since 1953, Dosunmu (20.1 points, 6.3 rebounds, 5.3 assists) was a consensus All-Big Ten First Team selection after leading Illinois to a Big Ten-best 16 regular-season wins, a conference tournament championship and a No. 1 seed in the NCAA Tournament.
The female candidates:
Tristyn Nowlyn, golf: Super senior earned All-Big Ten honors for the fifth time in her career, which she ended with an Illinois record 73.40 career scoring average.

Kailee Powell, softball: Junior earned All-Big Ten First Team honors and Big Ten All-Defensive Team honors. She slashed .328/.409/.550 with five home runs and 28 RBI and a .996 fielding percentage.

Rebecca Craddock, cross country: Senior earned Second Team All-Big Ten honors after finishing ninth at the Big Ten Championships.

Abby Cabush, swim & dive: Junior was voted team's Most Valuable Swimmer after breaking the 200 freestyle record twice.

Kendra Pasquale, soccer: A Third Team All-Big Ten selection, Pasquale lead the Illini in points (12), goals (five) and shot percentage (.238).

Olivia Howell, track & field: The sophomore won the Big Ten indoor championship in the mile. During the outdoor season, Howell won the Big Ten outdoor championship in the 1500m, set the program record in the event at the NCAA Championship prelims and then earned Second Team All-America status after finishing 10th at the NCAA Championships.
Our picks: The men's field is loaded, and Kovacevic, Feagles and Skirkey (and the unlisted Kofi Cockburn) are all deserving, but Dosunmu's season was stuff of legend (even without a great finish), so he is the somewhat no-brainer pick. On the women's side, Howell had the most consistent success and national success, so the underclassman is the clear pick, and she certainly has a bright future.
*****
The Illinois alumni TBT team House of 'Paign added two guards to its roster for its late summer run in The Basketball Tournament: former Illini guard Jaylon Tate and former Northwestern guard Juice Thompson.
Thompson, who played at Chicago Lincoln Park, is a 5-foot-10 guard who averaged 13.1 points, 4.1 assists and 2.0 rebounds in his four years with the Wildcats before graduating in 2011. This past season, Thompson played for Astana in Kazakhstan, part of the VTB United League, the top league in Russia. He averaged 14.2 points, 6.0 assists and 3.0 rebounds in 21 games while averaging 32.9 minutes.

"Juice has competed in some of the top leagues in the world the last decade," House of 'Paign general manager/head coach Mike LaTulip said. "He's a Chicago guy and checks the boxes in terms of his ability to facilitate, space the floor and be a pest defensively. He has always shot the lights out, including 45% from 3 this year. We're excited to add his experience and skillset."

Tate played in 121 games and started in 35 of them during a four-year career at Illinois, where he averaged 2.4 points, 2.5 assists and 1.2 rebounds. More recently, Tate played in 11 games for Swans Gmunden in the Austrian Basketball Bundesliga where he averaged 9.5 points, 5.3 assists and 2.2 rebounds on 30.8 percent shooting and won the league championship.

"Jaylon had a great season in Austria," LaTulip told Illini Inquirer. "He was a big part of his team's championship run. He gives us added depth at the guard spot and is someone who excels at getting others involved."
A tease: House of 'Paign will make another roster announcement on Thursday morning, and we hear it's a big one…
*****
*****
Have a happy Thursday! Illinois football is taking us media on a mock recruiting visit this afternoon.


[ad_2]

Source link