[ad_1]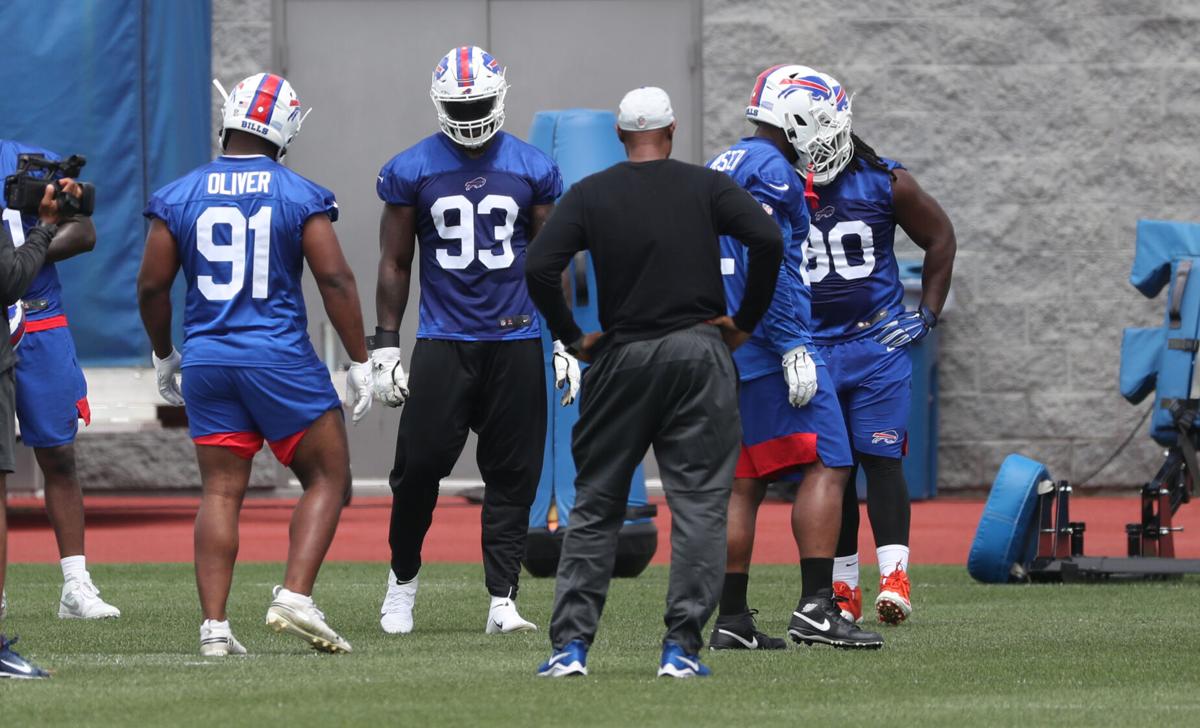 Christian Wade was working out in the Buffalo Bills' training room in March when his knees went weak.
It wasn't because of any physical strain, though. Rather, Wade was nearly floored by the news he had just received. The Bills agreed to a contract with defensive end Efe Obada, who just like Wade grew up in London and participated in the league's International Player Pathway Program.
"That's my brother right there," Wade said in an interview with The Buffalo News. "I just couldn't believe it. It's incredible. I was in the training room, and I almost just dropped to the floor, because I was just in shock. It's just incredible to have him here."
Wade, 30, and Obada, 29, didn't know each other growing up. Wade, though, watched with interest as Obada attempted to make the transition to the NFL despite not picking up the sport until he was 21. Obada originally tried out for the Dallas Cowboys in 2014 before the team played a game in London. That eventually earned him a spot on the Cowboys' offseason roster in 2015. Although he didn't make Dallas' 53-man roster, he had two stints on the team's practice squad.
After spending time with Kansas City and Atlanta during the 2016 offseason, Obada was a member of the first class of players to participate in the NFL's International Player Pathway program. He spent the 2017 season on the Carolina Panthers' practice squad as an exempt member. The following year, he became the first player from the program to make a 53-man roster. His first game action came in Week 3 of the 2018 season against Cincinnati. He finished that game with a sack and an interception, taking home NFC Defensive Player of the Week honors and being awarded the Panthers' game ball.
The following offseason, Obada returned to IMG Academy, where the next group of International Player Pathway participants, including Wade, was training.
"Once he started on his journey, I knew of him. I didn't know him in person," Wade said. "When he came back and trained with us, that was the first time to meet with him and hang out. We've just been extra tight ever since. Now he's here at the Bills. I think having him come in is just going to add to our team and also going to add to his game. He had such a great season last year. He's just been better and better every year. He can just keep improving."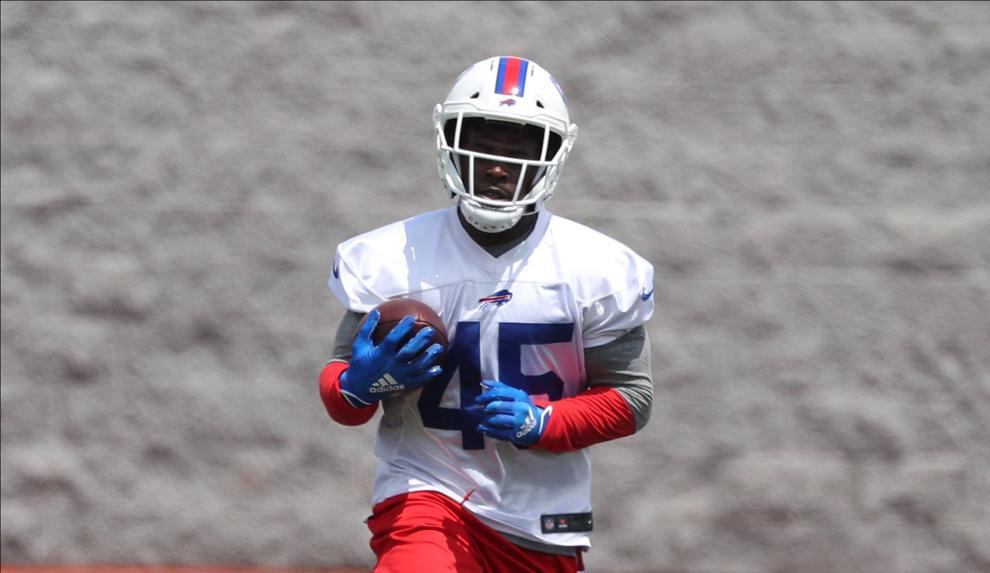 Obada signed a one-year, $1 million contract with the Bills after his best NFL season to date. He finished with 5.5 sacks, 18 tackles and 15 quarterback hits last year for Carolina, playing in all 16 games. That sack total would have led the Bills.
"I think what made me feel in love with this game initially was pass rushing, sacks," Obada said in a recent interview with The News. "I consider myself someone who is very good at it. I'm here to develop and add on to what I did last year and then work on my weaknesses as well. That's really what everybody's trying to do every year, every day, just get better. I don't feel like I've hit my potential. The standards that I set for myself are very high. Because of that, I'm always going to keep growing."
Having Wade by his side in Buffalo can only help.
"It's nice having that English presence, that camaraderie and friendship," Obada said. "It's easier. It's not that much of a barrier in terms of culture and language. It feels like, we're both going through the same journey, different stages, but we help each other. It's nice to be able to kind of see where he's at, and kind of break it down in a language that he's able to understand based on the fact that we have similar backgrounds and similar introductions into the NFL."
Bills coach Sean McDermott has been actively involved in efforts to grow the game, so the significance of having a pair of international players on his roster is not lost on him.
"I can't imagine what it would be like for me to trade places with them, and to try and make a team and try to impact the game," he said. "Just having both of those young men in our building and the impact it's made on our team, our program, our organization and community" has been great. "They're just positive guys with great energy."
Obada will be reunited with Bills defensive line coach Eric Washington in Buffalo. Washington served as the Panthers' defensive coordinator during the 2018-19 seasons.
"Being a guy from London and going through the international program, just being always at the bottom of the depth chart, I've been on different teams where coaches have just solely focused on the guys that are going to play or the guys that they've given a lot of money to or high draft picks, in terms of coaching and the amount of energy they put into their players.," Obada said. "From my experience with Eric, that's not the case. He treats everybody the same. He believes and he's invested in everybody's individual successes and careers. He respects it. It shows in the amount of effort that he puts into it. Being around that, regardless if you're at the bottom or the top, you're going to get better.
"When it's all said and done, being a guy at the bottom, you want to learn the tools that are going to allow you to survive in the NFL regardless of what team you're on."
The Bills' defensive line has veterans who make a lot of money (Jerry Hughes, Mario Addison, Star Lotulelei) and high draft picks (Greg Rousseau, Boogie Basham, Ed Oliver), so Obada knows that earning playing time in Buffalo will be a challenge.
"I just have to look at the positives in that, knowing that there's going to be guys that I can learn from and guys who are going to play at a really high level," he said. "I can observe them and just take from their game and apply it to my game in order for me to achieve what I'm trying to achieve. It's not an environment I'm not used to. I believe in competition. I feel like over here, there isn't any politics. It's whoever works the hardest and whoever produces will earn that role."
Obada did that last year for Carolina. According to Brandon Thorn, an NFL analyst and author of the Trench Warfare newsletter, Obada's true sack rate last season of six ranked tied for eighth out of 50 players charted. Thorn's true sack rate attempts to quantify sack production by judging them as rare high quality, high quality, low quality, coverage or clean up. Five of Obada's sacks from 2020 were graded as high quality. Of the seven players who finished higher on Thorn's list, all played at least 170 more snaps than Obada's 415.
"It's definitely been a roller coaster. Lots of ups and lots of downs. Lots of setbacks. Every year, it's a fight," Obada said of establishing himself as an NFL player. "I think throughout my whole career I've been doing one-year, one-year, one-year contracts. Even though I've been on the Panthers for three, four years, I've always been offered a one-year contract. I've always had to work harder than the recent draft picks or the guys that they give money to, and just kind of find my fit, whether it be outside or inside. You know, putting on weight, learning different positions. Uprooting my life. Just doing that extra work outside, just to make sure I'm able to maximize the opportunity I have while I have it."
Giving those opportunities to others is also important to Obada. He works closely with the BigKid Foundation in London, which seeks to equip young people at risk of social exclusion and youth violence with the tools needed to take control of their lives.
"It's an amazing organization, very close to home," Obada said. "Just because of cutbacks in government funding and things like that, a lot of resources that are available to young kids that need support aren't there anymore. They're creating this place where kids can come and grow and feel like they have a safe place to kind of learn and develop and be themselves that they don't really have in school or at home.
"More recently when I got involved, they started doing flag football. Sports is a huge teacher in many things and many aspects. So I just felt like it was very close to my heart. I keep in touch with a lot of the guys and a lot of the kids that take part in them and just give them general advice about what type of mindset you have to have in order to try and break out from that environment that they're currently in or some of the issues that they're going through that I can relate to."
Obada is passing on going back to London before the Bills report to training camp next month, focusing instead on arriving early in Buffalo to train.
"Initially I came in April," he said. "It was amazing. I was very excited. I was just happy I got into America, and then I got the April snow. That got me a bit worried, I was like, 'OK, what have I done?' Now the sun's out, I've had some time to experience the environment, the people, the culture and it's just real laid-back. I've seen how much the fans and people support Buffalo. I haven't even played a down of football, but I've received so much love and support and been welcomed with open arms by everyone."
[ad_2]

Source link